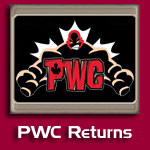 PWC Returns
Posted: December 26th, 2005

After a year long hiatus Pro Wrestling Canada made it's return to action during the month of December. Over the next several months you are going to see a facelift given to the Pro Wrestling Canada website, along with other important being posted. We would also like to announce our new promotional partnership with SVN Canada - Supplements, Vitamins, Nutrition Canada. With Reflex behind the scenes we are going to be able to promote quality events the way wrestling was intended.
[check out our news page to read all our older news and rumours]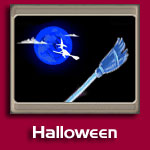 Happy Halloween from PWC
Posted: October 31st, 2004

All of the staff and wrestlers of Pro Wrestling Canada would like to wish every one a safe and happy Halloween. Remember to always wear some thing light in colour and if possible some thing reflective while trick or treating, even if your costume is dark.

We would also like to invite all out our fans to view our brand new online gallery featuring photos from the Sept 17th show in Vancouver at the Royale Banquet Hall. We have over 200 images for you to view broken down by the matches. It took out web team a little time to develop it and iron out the bugs, but every thing appears to be working fine now. If you have any issues using it or any comments on how to improve it, please contact our webmaster.
http://www.prowrestlingcanada.com/gallery.php
[check out our news page to read all our older news and rumours]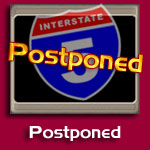 Shows Postponed
Posted: October 19th, 2004

Due to scheduling conflicts in both the United States and Canada, PWC is forced to reschedule two of its upcoming shows. The show scheduled for October 29th on the Ft. Lewis Military base should hopefully take place at the end of November. The November 26th Surrey, BC show will be pushed back until January 29th 2005 after the Christmas Season. The good news is we will be running another show on the 28th of January in Vancouver as well. We had wished to run sooner but many of the venues we wished to run are already previously booked with Christmas Parties right up until Christmas. We will keep you posted as details come in.
[check out our news page to read all our older news and rumours]
| | |
| --- | --- |
| | |
SVN Canada / Fuel

Address:

#6 - 20468 Lougheed Hwy

Phone:

(604) 460-6040

Toll Free:

1 (877) 544-8787

Fax:

(604) 460-0422

Website:

https://www.svncanada.com
SVN Canada - Canada's leader in Sports Nutrition. Lowest Prices * Best Advice * Fast and Reliable Shipping * Outstanding Customer Service * Largest Selection
604 Friends, Dating, and Personals

Website:

http://www.604friends.com
Make Friends maybe more with other people in the greater vancouver area. Free to join, and free to use. Over 750 members in the first 6 months, and growing larger by the day. Men, Women, Singles, or Friends...there is a little some thing for every one.
Fibretech Distributors INC.

Address:

#129-12885-85th ave, Surrey BC, V3W 0K8

Phone:

(604) 507-2199

Toll Free:

1 (800) 991-8827

Fax:

(604) 507-2190

Full Page Ad:

click here to view
Fibretech Distributors specializing in plumbing fixtures, lighting fixtures, and bathtubs. Catering to both wholesale and retail customers. Check us out for your home décor needs.
Name:

Evil Eddie Watts

Pro Wrestler

Home Town:

Virden, Manitoba

Height:

5'10

Weight:

234 lbs.

Years Experience:

18

Joined PWC:

print $month_name[$opdate[1]]." ".$day_array[$opdate[2]].", ".$opdate[0]; ?>
There is no secret as to why they call him Evil, all you need to do is look back at his long career and all the men he has injured around the globe. He can stand toe to toe with any of the other sadistic members we have on the Pro Wrestling Canada Roster.
Name:

Sweet Sarah

Pro Wrestler

Home Town:

Winnipeg, Manitoba

Height:

5'6

Weight:

120 lbs.

Years Experience:

2

Joined PWC:

print $month_name[$opdate[1]]." ".$day_array[$opdate[2]].", ".$opdate[0]; ?>
Sweet Sarah has wrestled all over North America and Mexico, but when she is taking time off she likes to be by the side of Chi Chi Cruz giving him her full support as his Valet. Between the two fan favourites they both have had much success carrying multiple titles in multiple organizations.
Name:

Machete Brown

Pro Wrestler

Home Town:

Los Angeles, California

Height:

6'1

Weight:

260 lbs.

Years Experience:

4

Joined PWC:

print $month_name[$opdate[1]]." ".$day_array[$opdate[2]].", ".$opdate[0]; ?>
By saying things like "I am Indian by birth, not by choice", you can quickly see why the fans really hate this man. Seen lately teaming up with the Ladies Choice, this former prison inmate should rise to greatness in the Tag Team division. Some argue that he is by far the meanest wrestler ever to step into a Canadian ring. Will turning his back on his people be a wise decision? Only time will tell.
Our full Roster:
Akam Singh, Bad News Allen, Beautiful Bruce, Brian Sommers, Bruiser Lexxx Bastein, Chi Chi Cruz, Chief Billy Two Eagles, Dirty Dan Denton, Doby Gillis, Enrique "Quique" Cruz, Evil Eddie Watts, Fabulous Fabio, Floss, Gama Singh, Gorgeous Michelle Starr, Jason the Terrible, Juggernaut, Kasaki, Killer Khalsa Singh, Lady Victoria, Leatherface, Machete Brown, Madison, Major Hardway, Maniac Matt Borne, Marty Goldstein, Moondog Manson, Mr. India, Notorious T.I.D., Scotty Mac, Sweet Sarah, The Ladies Choice, Venus, Verne Siebert, Do you want to Wrestle for Pro Wrestling Canada? Contact our booking department via out contact page.